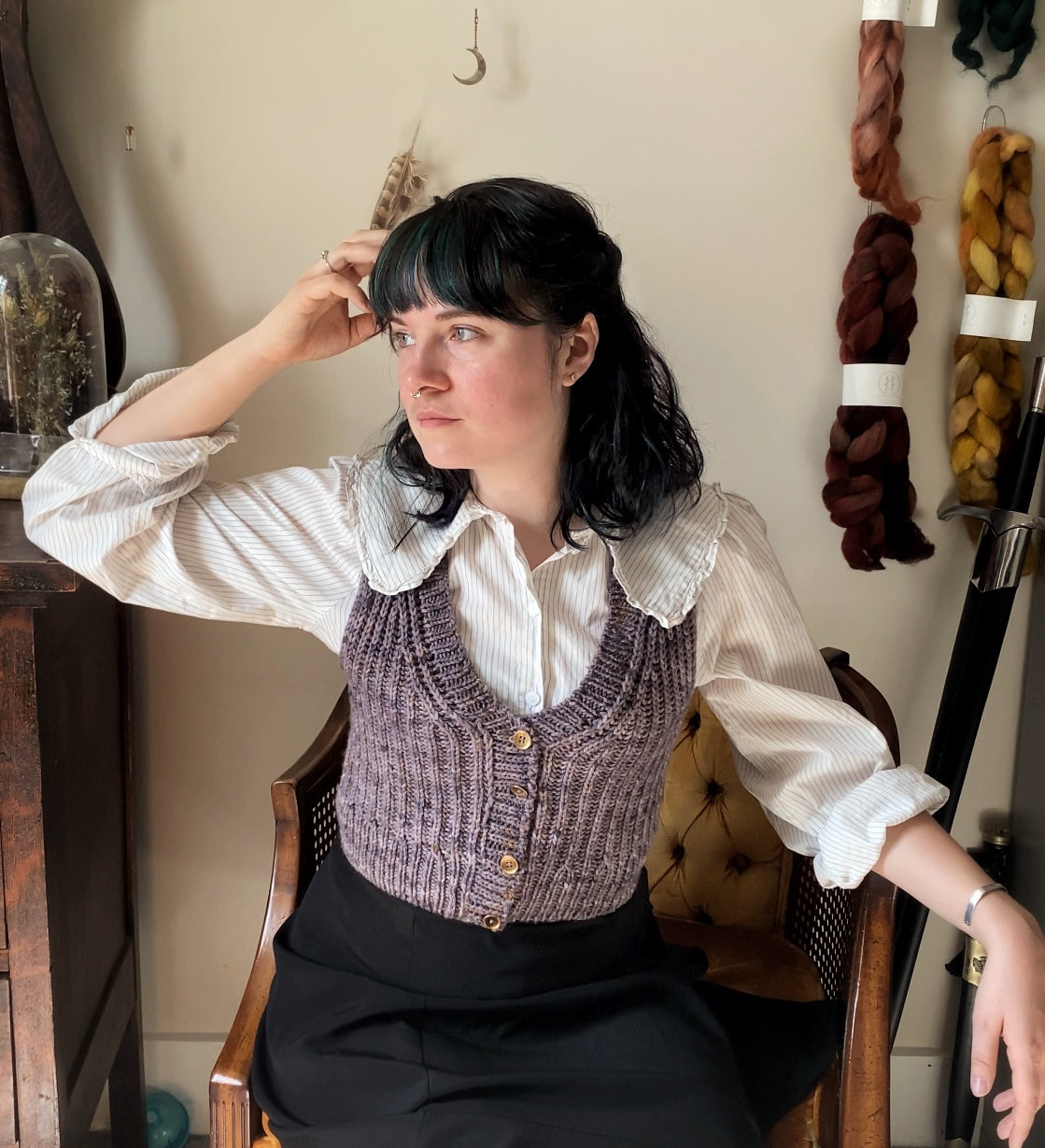 Formerly known as Once Upon A Corgi, Plies & Hellhounds Yarn is a small team of one woman and her two corgis creating luxury hand-dyed and hand-painted yarns and fibers that will satisfy your speckled, variegated, and semi-solid needs. 
Gabrielle Gergler (she/her) learned how to crochet and knit as a young child from her mother, an avid afghan crocheter, and carried the craft through her young adult life from high school to college. The fiber bug hit hard in early 2013 with the discovery of Ravelry and indie dyed yarn, soon she was knitting, spinning, crocheting, and dyeing.
In 2016 Once Upon a Corgi Handmade opened their first online shop and dove into the fiber world full-time. Then, in the midst of the insanity that was 2020, we went through a rebranding and are now Plies & Hellhounds Yarn.
Our goals as a yarn peddler is to bring you a wide range of fantastical, dark, and romantic colors to help you build the handmade wardrobe of your dreams. 🌲🧚‍♀️ Whether you're a goblin forest witch or just someone looking to add some magic to your crafting, we have a curated collection colors and bases for any of your dream makes bringing fibers into the rotation of knitters, crocheters, weavers, and sometimes spinners by seeking out different bases with fiber content including, but not limited to, Corriedale, Polwarth, BFL, and hopefully many more.        
You can follow this fiber journey on Instagram @pliesandhellhounds or @Gabigails, Patreon, or subscribe to the Plies & Hellhounds YouTube Channel to see what we are knitting, spinning, sewing, reading, and what Tennis Ball is the pick of the week.
Gabby is a born and raised Nutmegger, living and working in Central Connecticut with her husband, Jake, two corgis, and the judgmental cat, Jax.